Is your back porch missing something? A comfortable couch for two? A table for evening appetizers? Colorful cushions to brighten up space, or Adirondack chairs and rockers around the pool or lake deck?
Empire Pools displays Seaside Casual and Coastline Casual patio furniture in our showrooms and ensures every customer goes home with a setup that compliments their home and yard. Our line of outdoor furnishings provides an opportunity for modern designs, traditional styles or that cottage look you've been yearning for.
Our furniture lines have been craftily designed and provide a level of quality that is easy to maintain, keep clean while enduring New England's rough winters. How about a beautiful outdoor patio set with beautiful accent pieces, or maybe you are looking for perfect outdoor patio couches and chairs with colorful cushions made from mildew-resistant fabric. Select from many different colors and finishes, including a high-quality resin that is long lasting and strong, or that adjustable seating so you can take that summer nap. Or consider those traditional and rustic Adirondack chairs offering a classic style and comfortable seating – just so you and your family can relax.
Whether you need a full set from one of our collections, or an individual piece to complete your open-air atmosphere, we can help you find the perfect outdoor furniture product.
Seaside Casual is Traditional Modern

Seaside Casual's outdoor collection is a balance of traditional design recreated in modern materials. The coastal communities of the eastern seaboard have molded our aesthetic, while material advancements have allowed us to create a product that can withstand the elements. Our products are designed to endure the corrosive seaside air, a New England winter, or an Arizona heat wave. In short, we handcraft furniture that looks great, is easy to maintain, and can be left outdoors from one season to the next.
Coastline Casual Furniture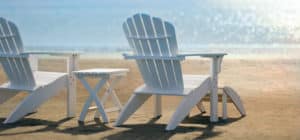 Coastline Casual Furniture is owned and operated by a 5th generation New England family, with a long
history of customer care, loyalty and integrity. Manufactured in our Rhode Island plant, our low maintenance outdoor furniture is built from innovative materials that are made to withstand any climate. Relax with the peace of mind that every piece carries a 10 year warranty that your furniture will not rot, splinter, or absorb moisture.